While watching cooking shows, I noticed that chefs will take a single ingredient and serve it three different ways.
So I thought it would be fun to take three similar picture frames I found on clearance, and with some easy touches make them over in three different ways.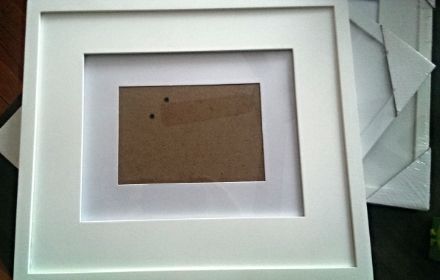 Before I get into the story behind each frame, let me share the best part of this project: I'm giving away two of the made-over frames to readers.
To enter to win, click like on my Amanda Gabeletto Altoona Mirror Facebook page. Once you do that, leave me a comment in the Facebook link for this House of Gab post about what you have hanging on your walls at home.
I will pick two winners at random and announce the results Tuesday. Your chance to enter the giveaway closes at 8 a.m. Tuesday.
Now, on with the explanations.
"Hootie and the Heart" frame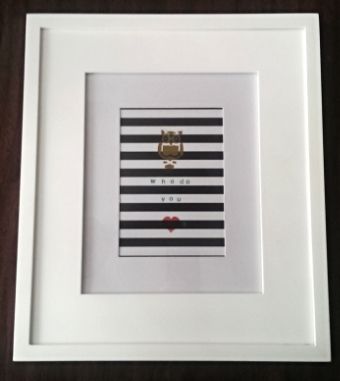 I love stamps and all their folksy charm. I have a whole collection of them.
Up until now I mainly used them to decorate greeting cards and wedding projects. For this frame, which is little more cream in color although it photographed more white, I picked up some fun background paper at the craft store. I stamped an owl in gold, the words "Who do you" in a blue-green, a heart in red and a question mark in the blue-green. The hardest part for me was getting everything lined up just right. I eyeballed it, but, obviously, you can measure it and mark it with pencil.
I imagine this one hanging in a little kid's bedroom.
"Flower Power" frame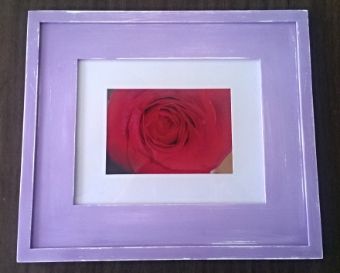 I took this photo while on vacation last year with my G family. We ate at a fancy restaurant where the waiters gave roses to all of the ladies. I don't have the greatest camera skills, so it was a fluke the shot turned out so good.
I painted the frame a pretty purple shade and used sandpaper to distress it.
This one, I imagine hanging just about anywhere you want to add color, maybe at the center of a wall filled with black and white framed images, or next to a glossy black or white vanity.
"Thailand Christmas"
A card from my adventurous, smart and beautiful niece, Haley, inspired my last frame.
She spent a year working in Thailand recently, and sent her loved ones Christmas cards while overseas. My graphic design artist hub has helped teach me that amazing art is everywhere. Look at magazines, postcards, and book covers for your next project. It's also inexpensive and easily updated.
For this frame, I liked the idea of playing off the rich colors in the card, which is so pretty on it's own. I sprayed the frame gold, and the hub cut out a blue mat frame from a piece of poster board for me.
Sorry, this one is not up for grabs. I'm going to find a special spot for it in our home.
But you can win either the "Hootie and the Heart" frame or the "Flower Power" frame.
Don't forget to like Amanda Gabeletto Altoona Mirror and leave a comment before 8 a.m. Tuesday.