Embracing a trend doesn't have to mean a big commitment. I love a classic, but also I love a trend. Some people don't.
But shaking up your home's decor with a small change is easy on your the wallet and it can give your spirit a boost. Or at least it does mine.
I got a few black candle bases on clearance a few years ago for a wedding reception decoration. I now use them to decorate my home. While they're nice just the way they are, I thought I might try out a new and easy trend I noticed making the rounds: dipped furniture and objects.
It just means painting, say the legs of a chair, halfway so it looks like you dipped them in paint.
I'm guessing this trend is stemming from ombre hair. Everything aesthetic is connected. Beauty, fashion, interior design, they are all holding hands in this game of Red Rover, Red Rover, send the next trend over.
So, taking a cue from my current fashion obsession: gold jewelry and a head-to-toe black outfit, I gave my candle holders a trendy makeover.
First painter's tape. Sure, you can go all free bird, but I'm telling you that reassuring blue tape says, "Don't worry, Amanda, I'm going to make your life a lot easier."
Next, sand the parts you want to paint. Paint doesn't just magically stick to whatever surface you slap it on. Remember, I learned that with the childhood dressers I painted. See that? Full circle, people. But don't worry I still made some oopsies for you.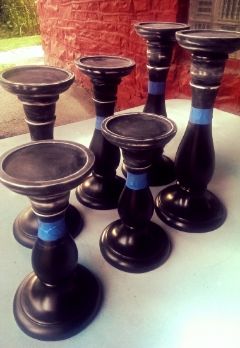 Before spray painting, I wrapped the base of each candle holder in newspaper and secured it with more tape. I didn't want the bases to get paint on them. Of course, because it's me they still did get a bit speckled, but I kind of liked it. For better coverage next time I'd use a paper lunch bag. That way there's no seam gaps for the spray paint to sneak through.
Take the tape off as soon as you're done painting. I used to think you should leave it on until whatever you're painting drys, but that's not the case. Just take your time when pulling it.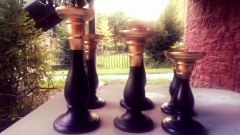 After everything dries, acknowledge how happy you made your sad trendless candle holders without much effort.
Then set the table for dinner, light the candles and grab the hub, because some things never go out of style.