I love creating vignettes around the house.
I learned the fancy word for grouping objects together to create a pleasing display on a shelf or table while watching HGTV. I also learned that for some reason grouping them in odd numbers, usually three or five is more pleasing to the eye.
Funny how when you put an odd number of objects together, it creates balance. That's a bit beautiful, don't you think?
An HGTV article online says creating vignettes is an easy way to give your home "designer zing," and who the heck doesn't want some zing in their life?
When I make up a vignette, and an object isn't tall enough, I'll often use books to give it a boost. I have so many of them and so little shelf space, so that works out well.
I also like to use objects with meaning.
In the vignette below, I grouped black and white objects on a bookshelf full of colorful books. I like the contrast. The skull is from my sister-in-law's trip to Mexico, the statue is from my great uncle's house, and the framed sketch is one the hub did when he was in art school.
In this next vignette, I painted the birch trees and frame. I've always had a thing for those types of trees. The globe was a gift from the hub when we first started dating. He literally gave me the world. Come on, how could I not fall head over heels? A small train in front of the books is a pencil sharpener once belonging to my grandfather, who worked for the Pennsylvania Railroad. The candles were displayed at our wedding reception.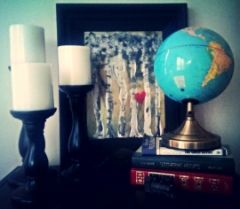 In the final vignette below, the angels are from my childhood. The bigger one has a hole in the back for a light and went in my window at Christmas. The smaller was our tree topper growing up. My mom gave it to me. The cedar box belonged to my grandfather, and the peacock picture frame was a gift from my mom. The framed print hanging on the wall came from Finds Furniture Consignment in Hollidaysburg. I love that store, such a treasure trove.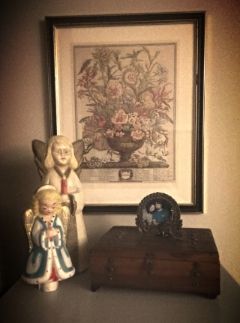 I hope this inspires you to collect some of your beloved objects and create a few spots around your home where you can pause and enjoy their beauty and the memories they evoke.