Nothing is better than fresh red potatoes dug out of the garden. Especially when you didn't do any of the heavy lifting and weeding to grow them. Thankfully, my mom grows a ton of stuff in her garden, and she gave me a few red potatoes to enjoy. Thanks, mom!
I love potatoes. Seriously, I'd eat them all the time if I could get away with it.
These potatoes were my experiment with a new way to cook up an awesome veggie. It was supposed to be smashed potatoes, but I turned them into obliterated potatoes. Oops. My pictures will tell the story, and it's not pretty. Luckily, I smooshed them back together, and butter always makes everything better. We didn't have leftovers, so they must have been pretty good.
On to the obliterated potato glory! This serves four, and three if you're hungry (or if you are a pig who happens to love potatoes).
Prep time: 30 minutes Baking time: 20 minutes Total time: 50 minutes
You need:
8 medium-sized red potatoes ½ stick of butter or equivalent with your favorite kind of oil ? cup of fresh rosemary or 1 tablespoon of dried rosemary ½ teaspoon of garlic powder Salt and pepper, to taste
First, scrub the nasties off the potatoes. I use a dish brush that was once labeled 'Potatoes,' but I wore that off. Poke them with a fork a few times so they don't kersplode in your pot of boiling water. Nobody wants to clean that mess up.
Once that's done, place them in a pot of boiling water and cover the pot. Boil them for about 20 minutes.
Start to preheat your oven to 400 degrees.
I love fresh herbs, so this is when I go out to pick my rosemary. My mom is a gardener extraordinaire, but I kill lots of plants. Or, I plant veggies too close together, so they don't make anything but some nice flowers. (I'm looking at you, yellow squash.) The only thing I have luck with is herbs in pots, and it makes everything taste better.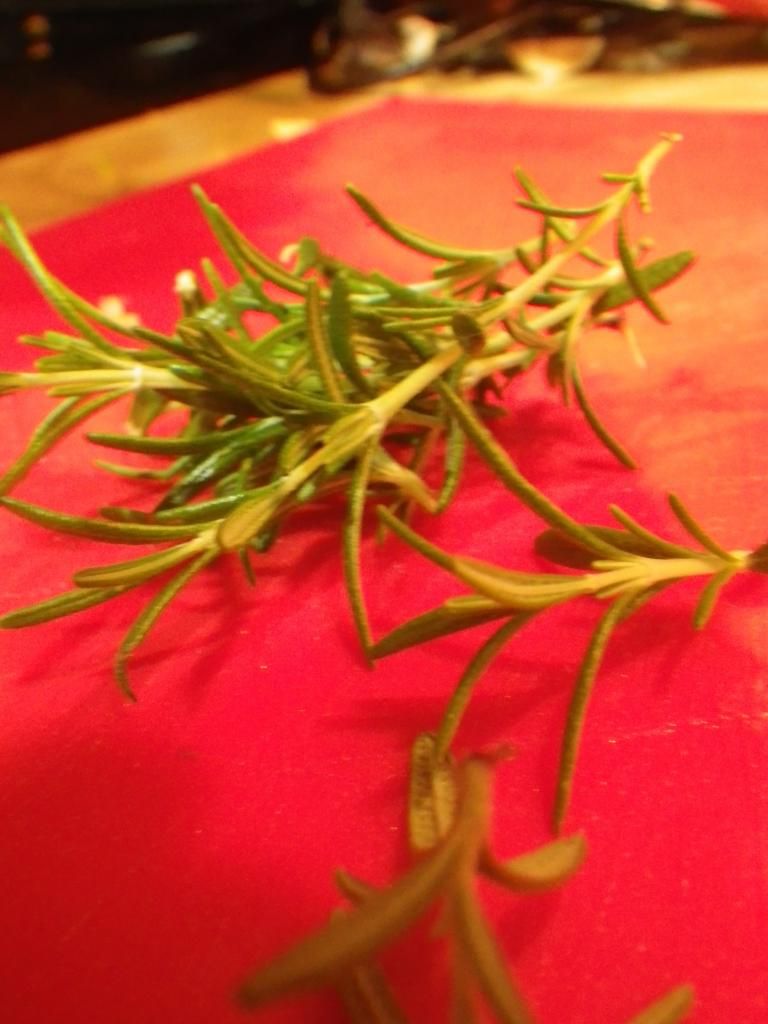 Anyway, back to potatoes! If you're using butter, melt it in a bowl. I pluck the rosemary and put it in the butter along with the garlic powder and swish it around. I like to let it sit so more flavor develops.
Once the potatoes are boiled for 20 minutes, take them out and let them sit on a cutting board for a bit. Or you can be impatient like me and burn your fingers while balancing the potatoes with a fork and knife. I cut the potatoes in half or thirds, depending how big they are. Then, I arrange them on a cookie sheet for smashing.
Shasta smash!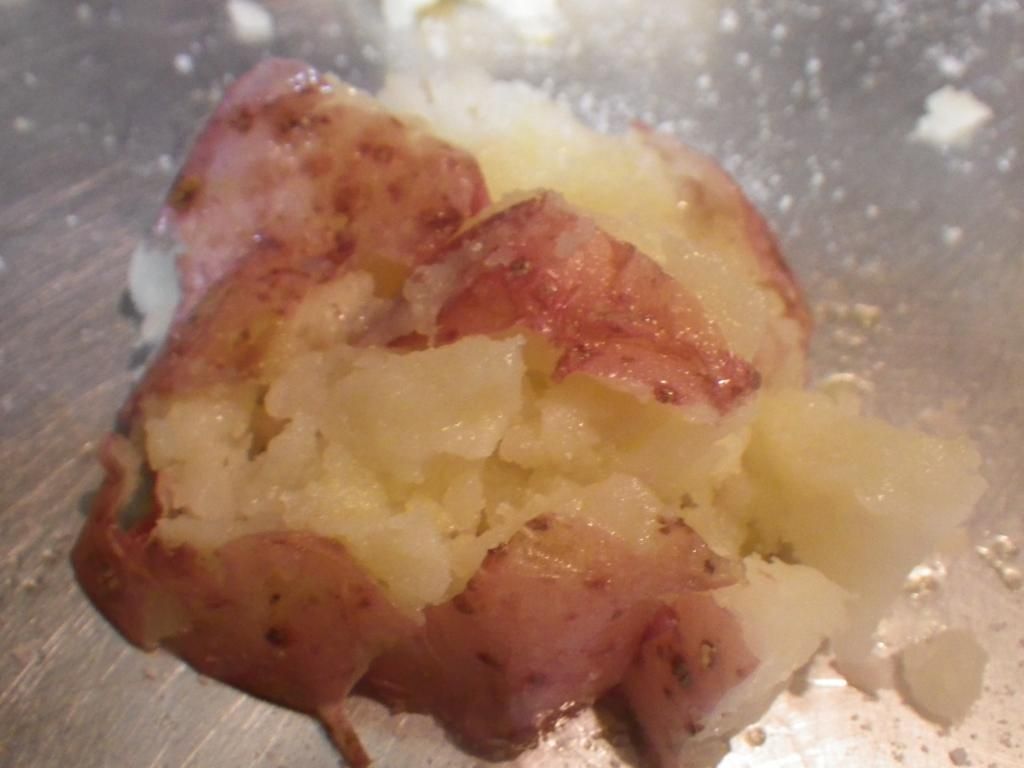 There's many ways to smash these guys. I chose the method of spraying the bottom of a glass cup with olive oil and smashing it. I'd recommend something else, 'cause this just made a mess and obliterated them. Maybe a metal spatula would work better? I don't know about a potato masher, unless it's the circle kind and not the type with a lone wire. It might not have enough mashing power. What do you guys use? Let me know on Facebook, where I post all of my recipes once they're on this blog.
Once they're all smashed (or obliterated… I won't hate on your style), it's time to butter them up. If you smashed them a bit too well, squish them back together in lumpy potato mounds. Don't put on too much butter. It will run off the cookie sheet and smoke up your oven. Not like I would do that… Nope. Never. I use a pastry brush, but a tablespoon works too. Make sure you get some rosemary on those bad boys.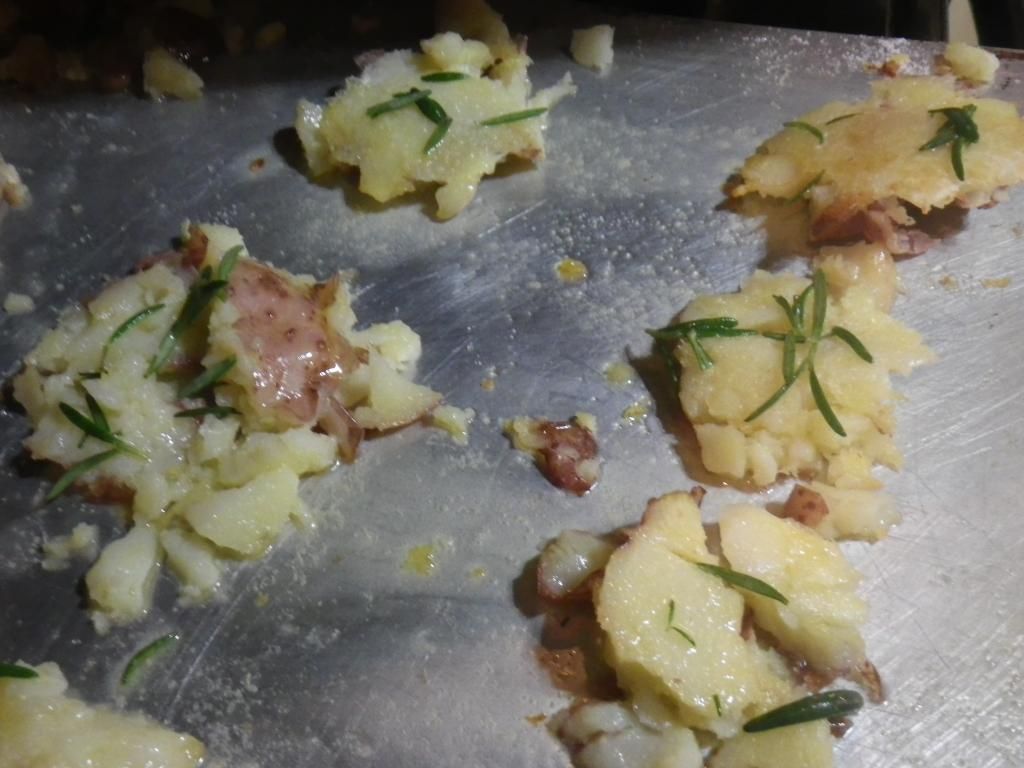 Sprinkle them with salt and pepper, then pop them in the oven for 10 minutes.
Take them out and try to flip them. Sometimes it's easier said than done, but it makes the potatoes nice and crispy. Unless you've put too much butter on them, and that makes it harder.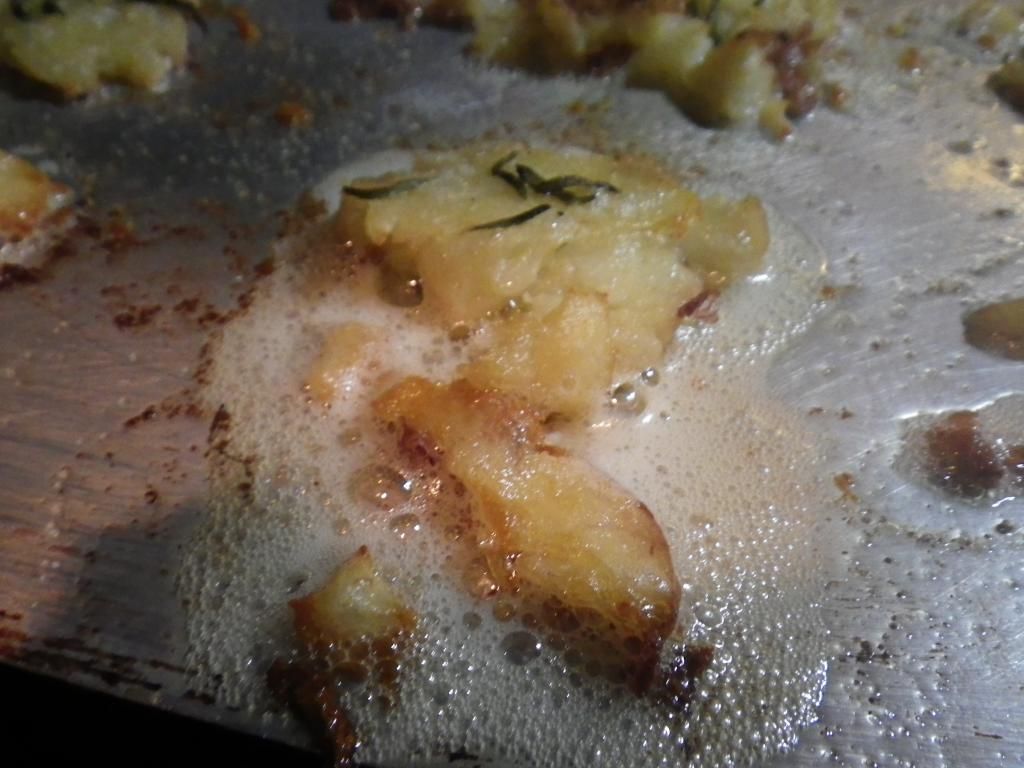 That is what it looks like with too much butter. Try to not do that. It's a hot mess.
After you manage to flip them, cook for another 10 minutes. Take them out when they get to your desired level of crispiness.
Messes aside, these were mighty tasty potatoes.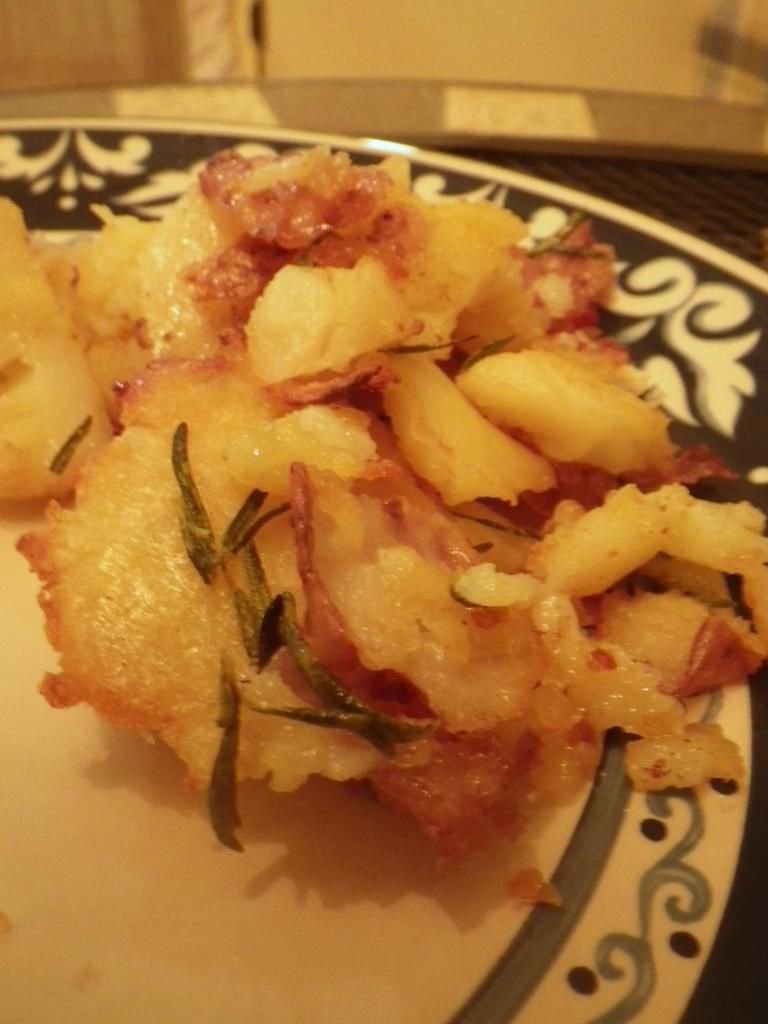 We served them up as a side to my buffalo-ranch stuffed pepper boats, and they worked really well.
Enjoy!