I owe a lot of my dining room to my generous mother-in-law.
She gave us our table, which has a glossy zebra wood top and thin tapered legs. I love the shape and look of the table, and always imagined pairing white, wood or metal dining chairs with rounded backs with it.
Have you ever priced dining room chairs? They're not cheap.
But then here came the hub's mom to save the day again: her office was getting rid of their old chairs and she brought home a whole stack. She's awesome, and I'm lucky. No mother-in-law jokes here.
But how to upgrade them from office boring to dining room chic?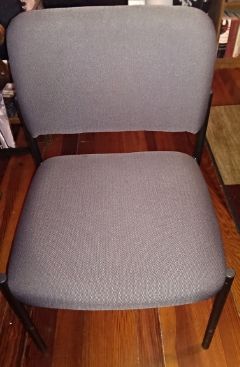 Like all good home interior junkies I'd seen how to re-upholster a chair once or twice.
I unscrewed all the seats and backs from their metal frames, and took them outside where the hub spray painted them glossy white. Although they weren't going to be all white like I had always imagined, we could still capture that look.
Back inside I covered each of the seats in a quality patterned upholstery fabric I found super cheap at Gab's. I've never seen fabric there before, so I don't think it's something they carry on the regular.
I thought a busy fabric would make it easier, but I found it really time consuming figuring out where to best cut the fabric so each medallion wasn't just cut in half randomly here and there.
Anybody have a tip for working with patterned fabric that would make it easier? Is it like the forest through the trees, and you have to find the repeat pattern within the pattern?
So I spent a lot of time stapling and then re-stapling the fabric to the seat and backs in order to get them to each have medallions lined up right and in the same spots. One's a bit wonky despite my efforts.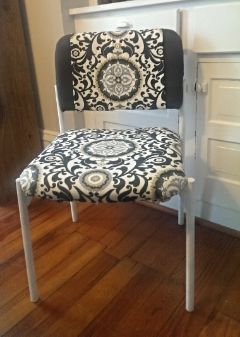 I'm still not sure if I'm happy with the backs. I gave up trying to figure out how to re-upholster the whole backs, because they curve a bit. Besides, the frame screws straight into the chair backs and I was scared to risk the fabric that I was having such a hard time lining up to drill holes.
I opted to leave the sides exposed, which is the part I'm not crazy about. But the office fabric is gray so it does match. And I do like how it looks with the hardware exposed. It's kind of like the chair equivalent of an industrial loft space. Maybe? Or I'm just making myself feel better.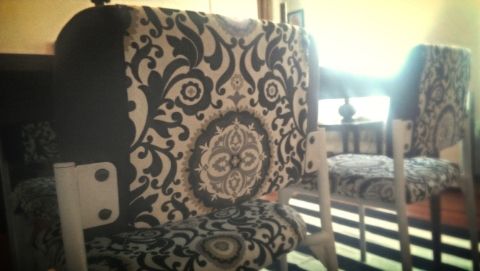 Overall, I'm pleased with how they turned out, but I still might try to improve the backs one day. If I ever magically develop sewing skills, I could make little pillowcases to slide over the backs.
For now, they're comfortable and cute, and really want more can you ask for from a dining chair.
Thanks, Lady G.