Follow the yellow wood door
August 1, 2014 - Amanda Gabeletto
Every day, this sad gray door under our porch cried out to me for help.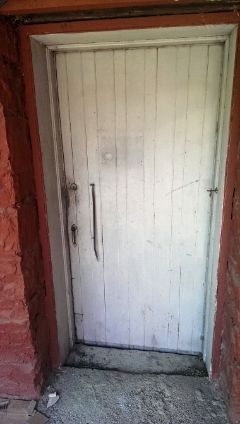 The hub and I had planted flowers, ornamental grass and a butterfly bush in the tiny yard off our porch. We re-finished patio furniture and window boxes the previous tenant had left in the basement. We added a few tables of our own here and there.
But there was this door.
In my mind, I kept picturing it yellow for some reason. I couldn't shake it. I liked the fantasy I was having of walking under the porch into the dusty alcove and stumbling upon this wooden door painted bright yellow. It gives me the feeling I get when a character in a book or movie comes across something extraordinary among the ordinary.
I want those spots all over our home one day. Maybe that's the real reason I want an old house with nooks and crannies instead of something new.
Do you have any spots in your home that make you feel a certain way?