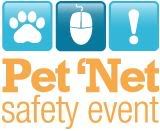 We're cleanin' up our act!...
In an effort to promote animal safety, Petside.com (http://www.petside.com), the popular online destination for pet owners and pet enthusiasts from NBC Digital Networks, has organized a consortium of some of the Web's favorite pet-focused sites to launch the Pet 'Net Safety Event TODAY!

Participating sites will highlight content devoted to the important topic of pet safety, with Petside.com hosting a comprehensive one-page hub (www.petside.com/pet-net-2009) with links to all of the special coverage. Additionally, Petside will join forces with the Associated Press to conduct a poll and collect data on people's behavior and attitudes related to the safety of their pets, the results of which are available today.

With the holidays just around the corner, a wide variety of pet dangers will be introduced into the household, yet "Common household dangers threaten our pets on a daily basis," said Joshua Fried, Director of Petside.com. "By raising our collective voice at once, we hope The Pet 'Net Safety Event will help focus some much-needed attention to these important issues."
This is the ideal time to spread our message about Pet Safety.
ALSO! Be sure to visit Petside.com to check out the other blogs containing helpful and lifesaving information for you and your pet!


And, now....
My search to find the best pet-friendly household cleaners.

Cleaning the pet-friendly way
I am by no means a great housekeeper. I could use an Alice in my life. I try to find value in dust and pet hair. I have to. I have lots of it. It gives my home character I think. Plus, I have a big shedding dog and cat. I could be in the pillow making business with all the fur I collect each week.
Yet, when it comes to cleaning and disinfecting I have always been a bleach freak. I once asked my friend if my house smelled like dirty dogs and she factually said, "no, your house usually smells like bleach." I have more bottles of Clorox Clean-up around than a hospital. I practically grew up in a swimming pool and worked as a lifeguard. I have always loved the smell of chlorine however pungent for most people.
My old Golden angel Jesse insisted on being right beside me in the kitchen even when I was cleaning but would head for the back door begging to go out when I started with the bleach. She was rather dramatic I must say, shoving her big snout into the door crack and huffing in search of fresh air. Dogs of course have an extremely sensitive sense of smell but she was insistent on being right in the middle of all the action however detrimental to her doggyness. (I made that term up ?
I know that bleach is probably one of the harshest chemicals to use around animals or children – even adults, if used improperly; but, because I have senior Golden Retrievers (who often have a more compromised immune system because of their age) and a miracle cat with FeLV/FIV, I am rather obsessed with killing germs.
There are now many products on the market that are designed to be pet (child) friendly. I will include several here for you to check out on your own however, the items I most want to emphasize are the tried and true ones that our grandmothers used, can be found in our kitchen, and are still the best choice out there:
(White) vinegar
Baking soda
Lemon
Hydrogen peroxide (bleach alternative)
Olive oil (for polishing furniture)
You've probably heard time and again how well these simple household items work – not to mention how cost effective they are -
so WHY aren't we using them?
Right here before you and the blog world, I am going to make a serious effort to train myself to start using these products. They are as natural as you can get, as safe as you can get and as inexpensive as you can get.
VINEGAR 101:
Vinegar
naturally cleans like an all-purpose cleaner. Mix a solution of 1 part water to 1 part vinegar in a new spray bottle and you have a solution that will clean most areas of your home.
Vinegar
is a great natural cleaning product as well as a disinfectant and deodorizer. Always test on an inconspicuous area. It is safe to use on most surfaces except marble. (Improperly diluted vinegar is acidic and can eat away at tile grout). Don't worry about your home smelling like vinegar. The smell disappears when it dries.
There are endless websites and books written on the uses of these products. One even touts "1001 uses of vinegar". Here's just an example of some of the infinite uses:
Clean sink and tub with full-strength vinegar. Simply apply with a sponge, wipe clean to a sparkly shine.
Remove stubborn stains from most surfaces: use a baking soda paste (3 parts baking soda, one part water). Apply, let stand, then scrub or wipe clean.
Avoid clogged drains: pour 1/4 cup baking soda down weekly. Rinse thoroughly with hot water.
A solution of equal amounts of vinegar and water is a well-known window-washing trick. Dip black and white newspaper pages into the solution and wipe the glass until it's almost dry. Finish wiping with a dry newspaper page. The streaks will disappear and the window will shine.
Accidentally spilled white glue on rug or sofa? Remove it with white vinegar.
Clean up a puppy accident (and smell) on your carpet: Blot up as much of the liquid as possible. Mix 1/4 cup of vinegar to a quart of water. Soak a washcloth in the mixture and blot the area several times.
If your animal continues to stain the place, try spraying vinegar on the spot. The smell should turn him off.
Remove scents from a carpet: sprinkle with baking soda. Let stand for at least fifteen minutes, then vacuum. Repeat as needed.
Baking soda in the litterbox will help prevent odors.
A friend got me a cute little kit of pet-friendly holiday cleaning products a few years ago made by
Mrs. Meyers
. I had not heard of the product but since have had a lot of people speak well of this line. In fact, I've never run across anything as strong as my bleach when attacking dirt and stains. I have to admit that Mrs. Meyers gives my bleach a run for the money and it is pleasant smelling, doesn't dry out my skin and most importantly does a great job cleaning counter tops, stoves, grease, spills, etc. You may fine Mrs. Meyers at a local retail outlet but all products can be ordered online at www.mrsmeyers.com.
I checked out reviews on
www.thegreenguide.com
to see if all that I was reading was true. According to this environmental version of the Consumer Report, Mrs. Meyers does use a very small amount of synthetic preservatives, most of which are naturally derived but can still cause mild skin irritation or allergic reactions like all cleaners. However, Mrs. Meyers products are entirely plant-derived and biodegradable – which means environmentally friendly and unlike my toxic bleach, pose less of a risk to your family's health. And, the containers are cute and recyclable.
If you're really turning into a green monster, visit:
www.grrassrootsinfo.org
Some other recommended product sites:
Simple.Clean. Pure www.simplecleanpure.com. Carry fragrance-free products for extra sensitive fur baby (and human) noses.
SC Johnson has a new line of cleaning products called Nature's Source if you're more inclined to want to stick with a name you know. While the Nature's Source™Nature's Source, she made a really going point that no matter how safe a product is proven to be, it is a good practice not leave cleaning products within reach of children and pets. While we both agreed this was common sense, we all know that is often a scarce commodity these days.
Don't forget to pay a visit to your local holistic/health food store. You'll find a nice array of natural- pet-friendly cleaning supplies. products are not antibacterial they are not harmful when used as directed. When speaking with a representative from SC Johnson about
Good luck with your own search. We'd love to hear about your favorite finds.
ALWAYS BE PREPARED:
I hope you never have to deal with such an emergency but keep the following handy:
For any animal poison-related emergency, 24 hours a day, 365 days a year. If you think that your pet may have ingested a potentially poisonous substance, call
(888) 426-4435.
A $60 consultation fee may be applied to your credit card.