One of the greatest joys of being an animal lover is sharing that passion with others.
For more than 20 years, Dean Koontz has authored a litany of novels to become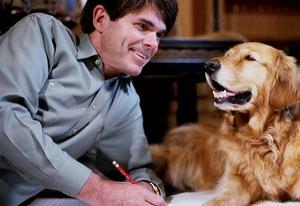 one of the best selling authors of all times. To his avid readers, it is not uncommon to find an intelligent dog as one of the main characters in his stories.
Dean had always wanted a dog of his own but his hectic life never seemed to permit the time he felt was necessary to devote to properly caring for a pet. While researching a novel several years ago, Dean discovered the Canine Companions for Independence (CCI) organization which provides trained service dogs to people with disabilities. So taken by the work of the countless staff and volunteers and incredible abilities of the dogs, Dean and his wife became actively involved with the organization.
After finally deciding it was now or never to get the dog he always longed to have, Trixie, bounded into their lives. Having served as an assistance dog with CCI for three years, Trixie had tendered an injury leaving her unable to continue her service work.

However, her work had only begun…
I had the privilege of speaking with author Dean Koontz about his new memoir of Trixie, "a big little life", the dog who forever changed the way he looked at the world.
In this very touching, often humorous and refreshingly open look into Dean's life, you find it wasn't long before Dean and his wife realized this dog was much more than a dog. She was Dean's special angel who helped to open his eyes to all wonders of life's simple pleasures that time often has a way of stealing from us.
Exchanging brief pleasantries, I had to tell Dean what an honor it was to talk to him, knowing that I had so many friends who were such great fans and were counting on me to make them proud. We shared our love of dogs, of the great work of rescues and especially our fondness of Goldens including a few of the typical antidotes that this breed seems to emulate. "They're so sweet", Dean said, "just an amazing breed of dog and they have certainly changed our lives here."
I told him I would be shunned (or worse) if I did not communicate the well wishes of his many fans and he extended a laugh, "That's good! I want as many fans as I can get because I never wanna have to learn any honest work like plumbing or carpentry. I have no mechanical skills or abilities, this is the only thing I can do."
And, it's a thing he has mastered.
Now on to 'a big little life"…
AH: You say that Trixie taught you to 'trust your instincts'. How exactly would you say she did that?
DK:
She taught me many things. First, it was a step by step process. One was my sense of wonder which had kind of diminished over the years and I had gotten somewhat cynical basically because of the way some people in your lives, in business, try to take advantage of you. You get sort of cynical about things and the publishing and movie business, especially the movie business is not the most gentlemanly in the world; but, watching her I learned to trust my intuition the way I watched her always trust hers. And, it always did well by her.
And, by intuition I mean not just some natural instinct, I mean intuition that God gives us when we're born to know the right and the wrong way of things and to be able to recognize the paths we need to take through life, not just making moral decisions. We're all given some talent or skill or ability if we'll only recognize it and embrace it and I wasn't using my writing skills or abilities to the fullest I don't think until I had this dog.
AH: You often say you never incorporated humor into your novels until recently. Had you just reached a more comfortable point in your life where you decided to use your gift of humor or did Trixie help loosen you up to use that hidden talent?

DK:
I had used humor in some books here and there and always argued with publishers about it. Sometimes they'd hold up the publication of the book trying to get me to take it out. Finally I had a publisher that didn't worry about that so much so that was part of it, but it really was having this dog, and in the first few months, as you know when you have one of these wonderful creatures in your life and you don't just treat them as a pet but treat them as a companion and as a member of the family, then you get so much more out of the relationship and every day is filled with a lot of laughs; because there's a clownish nature to these animals and on top of that they're so cute that there's going to be a dozen, 20, 30, 50 times a days when you look at them and just laugh and it just brought so much more laughter in to every day. We're pretty loose around here that way. We like making fun of each other and all the people that work with me and whatnot so this just increased the laughter, and I was like yeah, yeah, its okay - get over this idea that you have to please the publisher about the laughter in the book and put it in if you feel it's right with the book. I'm not sure I would have gotten there as soon as I did without her, or maybe never at all, but the fact that she introduced so much more levity into the day really helped motivate me to put more humor into the books.
AH: This is your first ever non fiction book. You often say how you drive your publishers crazy by not wanting to live in the limelight and maintain an endless book tour schedule yet you opened your heart in this book and reveal to us very touching personal accounts of your life. What inspired you to do this?
DK:
Well, at first we thought, who's going to care about reading about me?! But, I know people love dogs and this was such a special dog so I was able to open myself up to show how this dog affected my life. It's not really an autobiography, it's a memoir about this dog, about our life, so I also had to talk a little bit about who I am so people could get a sense of who we were before this dog came into our lives.
When I gave it to Gerda at the end of the book, she read it. I said what do you think? Well, first of all you say too many nice things about me. Well, yes, but maybe you think I do but show me one that isn't true. I couldn't push her to do that, of course, so she decided she'd remain quiet and not identify anything she thought wasn't true; but it all was true. She is wonderful and as a consequence I just thought it was wonderful, but again, she said 'who will care about this?' I said, I think they'll care because people care about dogs and dogs help us share the wonder of life and show you the sacredness of life in a way and touch your heart in a way very few people in your lives do and that's something that people who don't love dogs will never understand.
AH: I will always be baffled by those who don't feel the same kind of love for dogs that I guess I do, who can't relate to the unconditional love a dog can bring to one's life. If you could instill one 'Trixie trait' to touch such a person in order to have them be able to experience this wonder, what would it be?
DK:
I haven't thought about that one, but I think about the people who came to the house when we had Trixie who were not dog people, how they reacted to her great affection. Her tail wagging, her looking at them earnestly and if she really liked them she'd give them her tummy; and, there's something about that that really melts your heart. Then when somebody came back the next time even if it was months later she always remembered that she'd met them before and she greeted them with that greater exuberance that she'd greet an old friend with and that really moved a lot of people . They'd say, "she recognizes me" and I'd say, yep she does. It would sorta startle them I think. People don't understand the level of intelligence in dogs. I think you have to live with a really good, smart dog that's well trained (as they want to be) – and, if dogs make mistakes it's because they haven't been properly brought up – they really want to do things right and please and once you see their intelligence it's eye opening. It sends chills up your back and you discover there's a personality in each one of them that's just as different as in a human's personality except most of them are nicer than humans!
After we lost her it was so painful to Gerda she didn't think she could do it again but I knew we would because once you had that level of beauty in your life you just don't want to be without it again.

Along comes Anna…
Eight months after Trixie's passing, Dean and Gerda finally agreed they were ready to bring another dog into their lives. Two months later their friends at CCI introduced them to their new Golden, Anna. And, after all of the years of so much unexplained magic that Trixie brought to their lives, it seemed somewhat beyond coincidental when it was discovered that Anna was Trixie's great niece. While Anna looks a great deal like Trixie, says Dean, their personalities are quiet different. Trixie was a "mooshy dog" (as opposed to a not-mooshy one), pg. 30, but Anna is ever more demanding of attention which the Koontz's don't mind providing. A wet nose nudge to break the focus and provide a long overdue timeout for a self-proclaimed energizer bunny of a writer is okay with Dean. He and his wife welcome their new girl's need for affection. After spending a few minutes just petting Anna and focusing on her, I feel better as well, says Dean.
Like Trixie, Anna now takes a spot near Dean or Gerda's desks to wile away the work hours at their home offices. Strategically timed potty and snack times break the routine as do daily walks and play time.
Life goes on… with Trixie, of course…
A writer who has always had a passion for the English language and an abiding love for storytelling, Dean churns out novels at what might seem to some as an unprecedented pace. The third novel in Dean's Frankenstein trilogy – Dead and Alive - hit #1 on the New York Times bestseller list in August. He was quick to remind me that another new book, "Breathless", is due out in November.
Having now sold more than 400 million copies of his books in 38 languages, I asked which one he might suggest to a first time Dean Koontz reader. I was pleasantly surprised that the king of suspense offered up one of his fans' most noted favorites, "Watchers" (1987) which he related as "a good one, especially for dog lovers. And, it was one of my first novels and sold 12 million copies. 'Life Expectancy' (2004), Dean pauses, is another good one and probably the funniest."

Does the author have a favorite?
I don't know if I've prioritized them, Dean pauses, but Watchers is probably one of mine. And the Odd Thomas series. I have three more coming out in this series.

Which is Gerda's favorite?
I don't know if I've ever asked her. Probably "a big little life" because it a healing book. People have told us that they've read it three or four times, not because it's depressing but because it's uplifting.
The Trixster…
Not to be outdone by her master, Trixie, has continued to author her own new line of books, the newest, "Trixie, Who is Dog" is due out this month. Dean continues Trixie's legacy through her own website designed to communicate and provide a lighter commentary to her dad's profession. All proceeds from every book and project inked by Trixie support
Canine Companions for Independence
, the national organization that breeds and trains service dogs for adults and children with disabilities, specifically helping with the medical care of the dogs so disabled caregivers can focus on their healing.
Long after Trixie's golden light was extinguished on this mortal plain, she will continue to lend her healing abilities to people – many of whom will never know of this extraordinary girl but will surely feel the warm golden glow of her brilliant, fur-ever spirit.
WIN AN AUTOGRAPHED COPY OF 'a big little life'!
Visit Trixie's "a big little life" display at Barnes & Noble, Logan Towne Center in Altoona and register to win an autographed copy by author Dean Koontz! All proceeds from sales of Trixie's books support Canine Companions for Independence. The perfect gift for the person who is always giving to others.