It's very cold out.
Can't get much past me. Unless, of course, you're one of those lucky people who live in and enjoy much warmer climate (like so many of my old classmates I'm finding out), then you, too, are freezing your patooties off right about now.
(this is where I stick my tongue out at classmate, Karen, who is on her way to Maui)
I stay perpetually cold from about late August to early June. I know I maintain thermal homeostasis -- that is I'm warm-blooded (your biology 101 lesson for today) – but, I'm always cold, unless I'm imagining I'm having a hot flash.
So, what does all this have to do with Fifi?
Your pets get cold too. Yes, they have a fur coat which acts as a great natural insulation but there comes a point when their coat can no longer protect them from the extremes. Plus, for all our indoor fur-babies, remember that their systems have become acclimated to a more regulated climate.
I sometimes think my Goldens could sleep in the snow but it's very obvious that as they age, they too start to mind the cold a lot more often than when they were younger. Cold weather makes their joints ache, too. Steps start to look much like the Extrovert trails at Blue Knob to Mazey (photo) as soon as cold, damp weather sets in.
Never having had a cat (prior to the arrival/rescue of Eli, alias, Nero the Nittany Lion) I have learned how much felines like to seek out warm places. He pulls for the warmest blankets (preferably underneath them), space close to the radiators, and especially human body warmth. He becomes a glove snuggling as close to me as possible when he gets cold.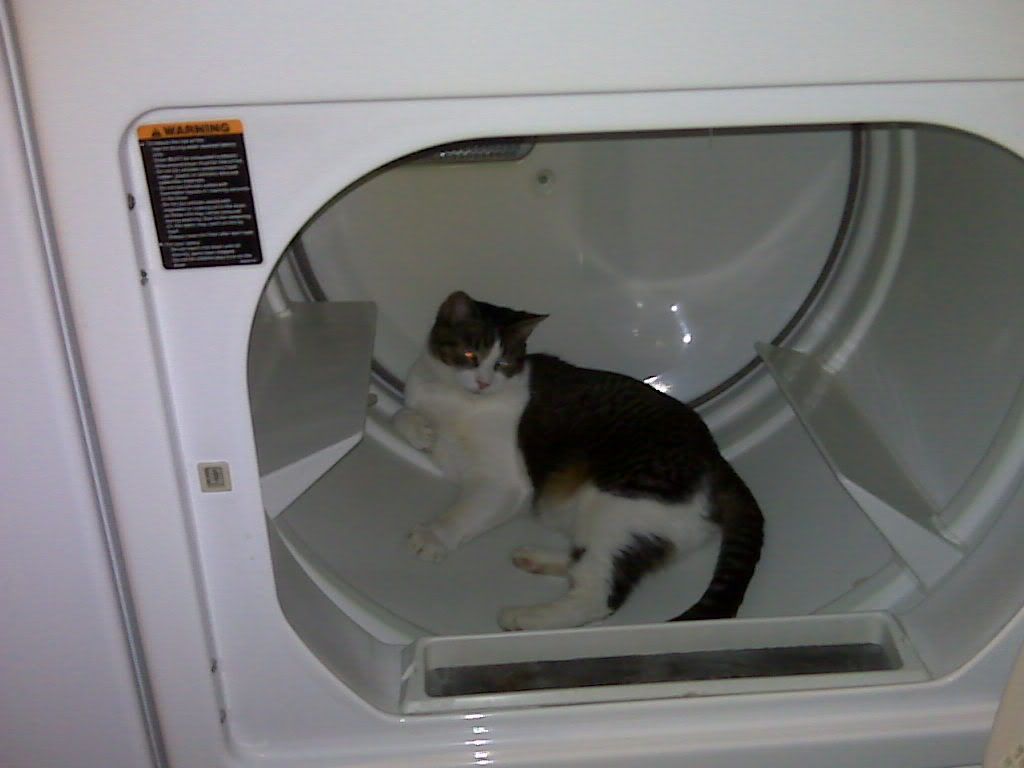 The funniest was when he discovered the dryer (photo). Now, as soon as I open the door he tries to climb inside, whether the clothes are still inside, dry or not. I have to literally remove him. It must feel so good to his little, sickly body. (he has FeLV and FIV)
Now let me make it clear. I do NOT condone allowing your pets to climb 'inside' the dryer. I am extremely apprehensive of the thought for fear some irresponsible person would take it a step too far but I have permitted him to jump in SUPERVISED a couple of times.
Stay aware of your pets' changing need for warmth and use as much caution as you would with small children when using portable heaters or any other device that gives off heat (even paper shredders or anything with a motor). Your pets, cats and small breed dogs especially, will find them. I had a poodle growing up. Snowball claimed a spot on a rug in front of the refrigerator. It provided just the right amount of heat for her. Forbid we needed to open the door…
The point is to remember that as you are trying to conserve money on energy costs this winter your pets are at your mercy. I walk around like Yeti all winter (looking much like my mom dressed me for the outdoors when I was little). Mazey and Eli can't add additional layers if needed.
I urge you to keep your pets inside and keep an eye out for pets left outside during extreme temps. Report them to your local animal enforcement agent if necessary. They can't place the call themselves.
The best story by far is that of my assistant's mom, who rigged up a tent connected to the dryer vent for their one outdoor cat. They live on a farm and many of their cats live in luxury in their barn. One cat, in particular, couldn't make up her mind if she wanted to be indoors or out so the decision was made for her. However, to accommodate her desire for additional warmth, the addition to the vent was created. I would love to see it!
What we don't do for our pets….
However, for what they give in return, it's the very least we can do. Keep warm.